---
Municipal Party Secretary Hu Jiuming made an unannounced visit to Xian Crystalline Company
---
  On April 8, Hu Jiuming, secretary of the municipal party committee, made a surprise unannounced visit to inspect the safety production of Xian Crystalline Company. This is a major inspection by the municipal government leaders for enterprise safety production management in 15 consecutive days, following the safety production inspection of our company by Mayor Yu Ke on March 23, Secretary Hu, together with the Municipal Emergency Management Bureau and provincial chemical experts, went straight to the site and inspected Xian Crystalline Company on the spot, and Zheng Zhangjun, secretary general of the municipal party committee, inspected together.
  Secretary Hu Jiuming proposed in the symposium after the safety inspection that Xian Crystalline is a key industrial enterprise, a key chemical enterprise, a key tax-paying enterprise, and a key critical enterprise for safety production. We should deeply understand the extreme importance of production safety, and put bottom-line thinking and red-line awareness throughout every process and every link of production and operation. To strengthen safety training and emergency management, to minimize safety risks. To improve the safety mechanism, strengthen the monitoring and early warning of key parts and key links, consciously carry out self-examination and inspection, and timely close the loopholes of hidden dangers. To invite experts, arrange special personnel, strengthen risk source control and hidden danger investigation and management, improve the safety infrastructure security capacity, targeted to grasp the key work of accident-prone, frequent and high-incidence season of safety production. The red line consciousness of safety production is penetrated into all aspects of the production and operation of enterprises and the whole process, always tighten the string of safety, see the bottom and investigate the hidden dangers, and provide strong safety guarantee for the high-quality economic development and social harmony and stability of Xiantao City.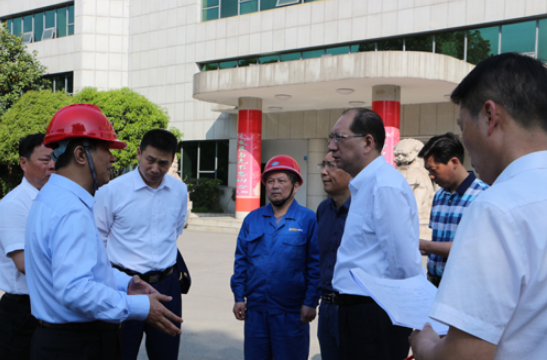 At the meeting, the chairman of the company, Zeng Manhua, on behalf of all the staff of Xian Crystalline Company, expressed a warm welcome to the arrival of Secretary Hu and all the leaders! We express our heartfelt thanks to the municipal government and the relevant departments of the municipal government for their guidance on the work of safety production of the enterprise! And solemnly promise to strictly follow the requirements of the Municipal Emergency Management Bureau and experts at all levels to rectify the safety hazards inspected, article by article and item by item on schedule to ensure that nothing is lost. At the same time, we will put pressure on ourselves, improve the safety management level, maintain the normalization of "safety self-examination and self-correction", create better economic and social benefits under the premise of safety and environmental protection, and make greater contribution to the development of economic and social undertakings in Xiantao City.

Address:Dujiatai,Xiantao city,Hubei,China(433000)
Office Add:Room 1901, Building No.3, Fanhai
International SOHO Town, Jianghan
District, Wuhan, Hubei, China (430000)
Tel: 86-27-8355 7255
Fax:86-27-8355 8390
E-mail:sales@hbxlchem.com
This website has supported IPV4/IPV6 two-way access