---
Xian Crystalline Chemical participated in "The 23rd China International Coating Exhibition"
---
On December 4-6, 2018, the 23rd China International Coatings Exhibition was grandly launched in Guangzhou Canton Fair Complex. As an upstream raw material supplier of coating-related industries, our company joined hands with its subsidiary, Wuhan Xian Crystalline International Trade Co.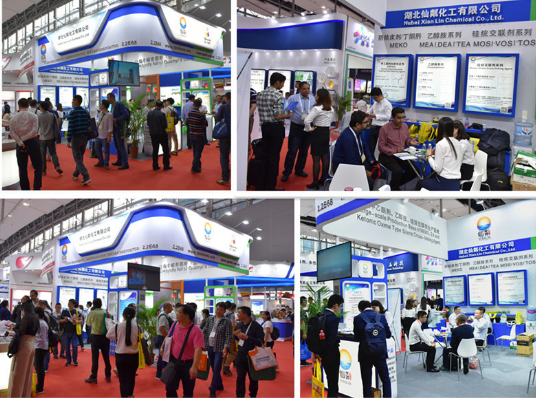 (China International Coatings Exhibition ↑)
As a feast for the coatings industry, China Paint Show is dedicated to bringing raw materials, technologies and production equipment for the production of coatings and inks to the global audience, providing a good platform for the coatings industry to find cooperation opportunities, exchange knowledge and experience, and discuss industry trends, making it a rare international event in the coatings field. At this year's show, there are more than 1290 exhibitors from 34 countries and regions, and nearly 35,000 industry visitors from more than 80 countries gathered here.
(Hubei Xian crystalline booth site↑)
During the three-day exhibition, our three main products, methyl ethyl ketone oxime (MEKO), ethanolamine series (MEA, DEA, TEA) and ketoxime type silane crosslinker (MOS, VOS), were attracting the attention of many visitors from home and abroad. Among them, the exhibits of methyl ethyl ketoxime (anti-crusting agent) are highly effective for alkyd resin, epoxy resin and polyurethane paint and coating, providing a reliable anti-crusting solution for paint and coating manufacturers. Ethanolamine, known as "industrial monosodium glutamate", is not only used in the traditional cement building materials and surfactant industries, but also widely used in the coating and ink industries as a curing agent for coating and ink, and as a neutralizer, plasticizer, vulcanizing agent and foaming agent in the ink and rubber industries. The exhibits silane cross-linking agent series products are also the main raw materials for the production of room temperature vulcanized silicone rubber and silicone glass adhesive, which has a broad market space in the context of the current infrastructure with glass curtain wall as the main architectural style.
(International partners take pictures↑)
At our booth, trade partners and visitors from home and abroad visited our booth, they inquired about the product index, performance and packaging, exchanged with us about the development of the industry and the latest market situation, expressed their cooperation intentions and discussed more in-depth cooperation plans.
(Hubei Xian Crystalline booth silhouette↑)
The exhibition came to an end with a lot of people. Here, we sincerely thank our new and old customers for coming! Our company will continue to improve professional services, customer demand-oriented, committed to providing quality products and services for the majority of downstream customers. At the same time, we sincerely hope to meet you at the next "The 24th China International Coating Exhibition" in Shanghai.
(Group photo of the exhibiting team of Xian Crystalline↑)

Address:Dujiatai,Xiantao city,Hubei,China(433000)
Office Add:Room 1901, Building No.3, Fanhai
International SOHO Town, Jianghan
District, Wuhan, Hubei, China (430000)
Tel: 86-27-8355 7255
Fax:86-27-8355 8390
E-mail:sales@hbxlchem.com
This website has supported IPV4/IPV6 two-way access